Tackle and Tactics
Mike Ladle
Information Page.
Photographing Fish - part I.
I've been using a little digital camera for years to get pictures for my album, for the website and occasionally for publication. My present camera is a waterproof Pentax Optio W20 (my wife tells me that it has now been upgraded [probably several times] to one with greater resolution and a few more bells and whistles - hint for Christmas?). All in all I'm very pleased with the results it gives but I've always been aware that good photographers with top quality kit produce even better pictures. Like me, my pal Steve Pitts also uses a little digital compact and he recently sent me the following account of his approach to using it (as he says inspired by a talk from professional angling photographer Henry Gilbey). Over the years Steve's wise words have taught me a lot about how to get better results from my pictures so I thought others might find it interesting too. I've divided the piece into three sections and here's the first one. Steve writes :-
I was enthralled by Henry Gilbey's presentation on fishing photography at the last BASS AGM early in 2010. Like most things that Henry gets involved in (that's a bit of an understatement seeing as he earns his living out of photography) he is passionate about obtaining the best results and has honed his skills to become one of the foremost photo-journalists in the UK and in the angling world, his work is seldom bettered.
I was listening to Henry and watching his 'slide show' (understatement no.2!) and I couldn't help but try to picture myself taking the shots that he was running through. Would I have taken that one any differently? How would I have framed that shot? How did he get that background out of focus and the fish so pin-sharp? Could I capture 'the moment' as well as he did?
Now I don't have an expensive Nikon camera, so how could I ever get the same detail? Just what could I achieve with my point and shoot digital compact?
If I can interrupt Steve's flow. I guess that's what we all wonder and, to be honest, there are limitations imposed by the equipment, but cheap modern digital cameras, like the one I and thousands of other anglers use, are amazing. I no longer need extra lenses, extension tubes and other specialties to get a few decent fishing pictures so I was immediately drawn to Steve's account of how I might improve things. M.L. He continues -
Now I'm no David Bailey ~ there, I've admitted it ~ but I do appreciate a well composed photo and if the subject matter is a fish, an angler, a seascape, a landscape with any water in it, or a pretty girl (well I'm not obsessed with fishing!) then I do find myself asking those same questions.
During his presentation, Henry ran through a few of his 'golden rules' of fish and fishing photography and explained how he 'works the fish and the angler' to get them both positioned for the best effect.
BLUEFISH.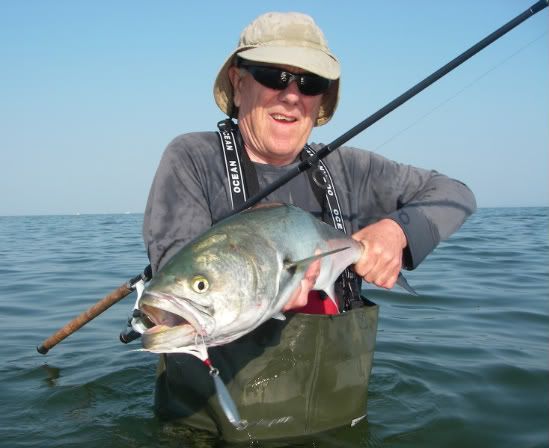 Of course; you can't ask the fish to pose for you, but you can encourage (Henry suggested cajoling) the angler to 'present' the fish to the camera by holding it in a way which adds interest to the shot.
YELLOW FIN TUNA.
A bit of a cheat here - I took the tuna and the wahoo using Austen Goldsmith's Canon EOS 400D SLR, but the angle of the fish gives an added dimension to the shots and tries to emulate Henry's style.
A picture of you holding a fish in a filthy towel or with it covered in muck isn't going to look good in your photo album and the classic 'The Hunter Returns Victorious' pose, set infront of the garden shed or kitchen sink, won't win you any prizes in the Photo with the best backgound category in any fishing magazine, so give it a dunk to rinse it off just before you take the shot and you might even catch the droplets of water as they drip off of the fish, which always adds a hint of movement and life to the image.
- but be careful! I recall Steve doing this to a good tarpon that I'd just landed on my 8wt fly gear - when I turned round, camera in hand, it flicked its mighty tail, escaped from his grasp and buggered off! M.L.
I also remember Henry's advice on when to 'lose the sky' by finding an interesting background if it's dull and overcast and the light is 'flat', thus avoiding a drab background to the picture.
WAHOO.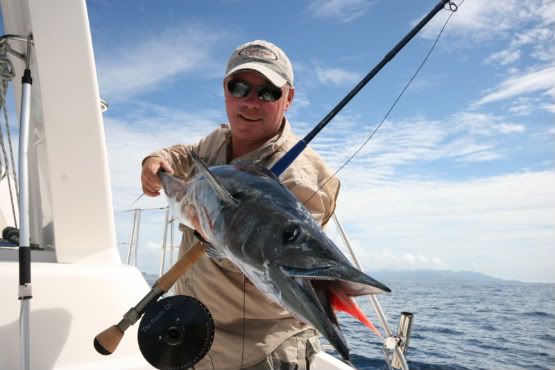 Perhaps I should have tried to 'lose the sky' in the next shot of a crevalle jack ~ but we were fishing in the middle of hurricane Ivan ( Tobago 2004)
So ~ it isn't just because he has a flash camera that his photos are always interesting and draw you in to his shot – he thinks about each photo, each fish, all of the options, the situations, the conditions, the format, and the focal point of interest.
Me ~ I just tended to point and shoot, so no wonder I often got crap results!
CREVALLE JACK.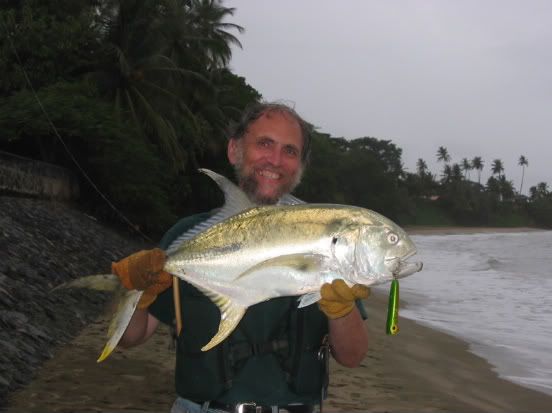 Here endeth the first lesson. I suppose, in essence, what Steve is saying is that we should all think a bit more before we press the button. I know I shall try to in future. More to follow soon. M.L.
If you have any comments or questions about fish, methods, tactics or 'what have you.'get in touch with me by sending an E-MAIL to - docladle@hotmail.com